Anonymous Reporting, Incident Management, Emergency Management, Health and Well-being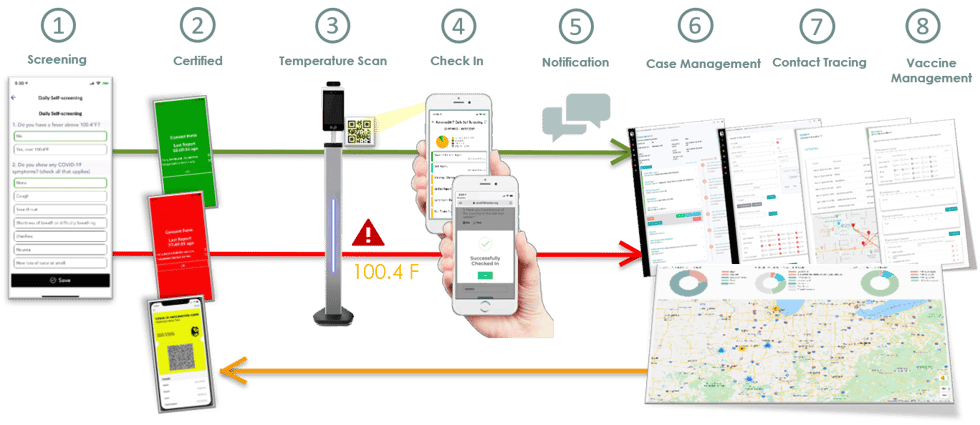 How Each Feature helpS School and campus Safety
Anonymous Reporting
Collect safety concerns anonymously as well as non-anonymously
Helping 2nd largest school district in the nation since 2018
Panic Button
Pre-configurable Notification Recipients
Integrated to Anonymous Reporting System's Triage Dashboard
Screening Certification
Dynamic drag-and-drop Survey Editor
Multi-lingual
Multi-state (Pass, Fail, and Stay-Home) workflow
Location-aware, Time-zone-aware, Org Chart-aware
Real-time notifications via email, push, and text
Reminders
Delegate (k-12 specific)
In case of minor students, it has a special feature that can handle various real-world guardian situations. For example, parents can certify multiple children without logging in multiple times. Also a parent with multiple households can do the same at one-stop. A separated couples can handle certifications without interacting with counterparts. The delegation can be configured to handle any household situations.
Guest Management
Pre-screen guests prior to visit,
Kiosk-based self-screening on site,
QR Code Check-in,
Fully integrated with Case Management and Contact Tracing,
Single screen to view all foot traffic data mapped to the employee the guest is visiting.


Case Management
Mature case management specialized in safety incidents serving over 700,000 user base today.
Manages data points such as;
Issue Types, Person Involved (Contact Listing), Updates (Contact Identification), Tasks (Contact Follow-up), Checklist, Attachments, Checklist, and Dynamic Forms with Form Builder to capture any additional information about the case.
Robust notifications based on various criteria and triggers,
Comprehensive reporting and export functions,
Scope based and role based security
Multi-layer Org Chart,
Built-in Task Management,
Dashboard with Aging and To-do,
Support multiple languages,
all views and edits are tracked.
Contact Tracing
Within Case Management, perform
Contact Identification,
Contact Listing,
Contact Follow-up.

Notify, collect, and manage pre-emptively mitigate the risk of an outbreak or becoming a hotspot by a super-spreader.
Vaccine Distribution
Management
Announcement
Vaccination Site Info
Vaccination Tracking
Immunization Verification
Campaign Announcement,
Reminders,
Vaccine Site Information,
Collection of Vaccination Status,
Collection of proof (CDC Card),
Integrate with HR system,
Issue Internal Vaccine Card.
Temperature Scanner
Fully integrates with Check-In and data collected from the Touchless Temperature Scanner.
Temperature, Mask Wear, and Check-in Timestamp all mapped to employees and guests so effective Contact Tracing is achievable.




Check-in
Fully integrates with Self-Screening
Fully integrates with Guest Management
Fully integrates with Case Management
Single source of truth to perform Contact Tracing
Mobile-first




Badge Integration
Secure physical spaces by disallowing entry of non-compliant employees.
Integrates the granular data of key swipes for more thorough Contact Tracing.